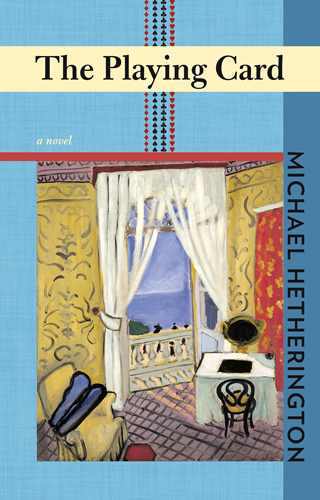 The Playing Card by Michael Hetherington
Gold medal for best fiction,  Canada West region
— 2014 Independent Publisher Book Awards
Finalist, literary fiction category
— ForeWord Reviews 2013 Book of the Year Awards
ISBN: 978-0-9879618-5-3 (10: 0-9879618-5-3)
978-0-9879618-8-4 (epub)
Publication date: October 15, 2013
232 pages
5.125" x 8"
A deck of playing cards is discovered, each card inscribed with a fragment of a story.  S has kept a playing card face down for 26 years without looking at it.
S studies daily in the threatened Dunsmuir House Library in Vancouver while the one-eyed Dean Truman sells a one-volume encyclopaedia door to door.  Deborah possesses an obsidian mirror with mysterious powers.  And on the Caribbean island of St Lucia another card lies guarded face down in the mud, preparing for an exotic patenting ceremony.
The structure of the book is disordered – there are several different story lines, being slight variations of each other and of the characters involved. The book includes two joker chapters and an "Inface" (cf. Preface), which is set "in" after the first three chapters.
The reader may be tempted to look at – but should not! – the concealed playing card on the inside of the back cover.
---
Purchase Options:
Please Note: See our ordering page for information about arranging to pay by cheque.
Paperback — Canadian customers: $19.95 + taxes (free shipping in Canada)

Paperback — USA customers: $19.95 + $5 taxes & shipping fee (combined)

Paperback — International customers: $19.95 + $7 taxes & shipping fee (combined)

The Playing Card is also available at fine local bookstores including 32 Books & Gallery (North Vancouver), Book Warehouse (Main Street), Cafe Books West (Rossland, BC), The Paper Hound (downtown Vancouver), and Queen's University Bookstore (Kingston, ON).
---
Rights Inquiries:
bryan@rebuscreative.com, 604-684-8294, ext. 25